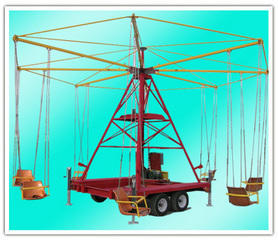 Cyclone Super Swing Ride
Actual Size: 42Wx15Hx42L
Setup Area: 60' Diameter
Age Group: Kids and Adults
Attendants: 1




Cyclone Super Swing is a great addition to any festival, fundraiser, party or church function. The cyclone holds up to 16 passengers, including kids and adults up to 170lbs. With a variable speed motor, the operator can increase or decrease the ride speed based on its passengers, providing a thrilling ride for all age groups. 42Wx15Hx42L . $1199.00 for up to 5 hours and $149.00 each additional hour.
Features
- 16 Riders per ride.
- Adult and child seats, side by side.
- Set up area 60' fenced for safety.
- Texas Jump N Splash safety operators
Safety Rules
- Adults should always be supervising the kids when they are climbing
- One rider per seat.
- Minimum weight is 40lbs and maximum weight is 180lbs
- Minimum height is 48 inches
- Rider must fit in the chair to be allowed to ride.
- Never lean forward when ride is swinging.
- No jewelry or sharp objects allowed
- We cannot operate the ride when it's raining
Overnights
- Overnight rentals are allowed with Texas Jump N Splash Operators.
Concrete
- Cement set ups are allowed. We cannot set up on rocks, gravel or uneven cement.
Power
- We provide the power to the ride.