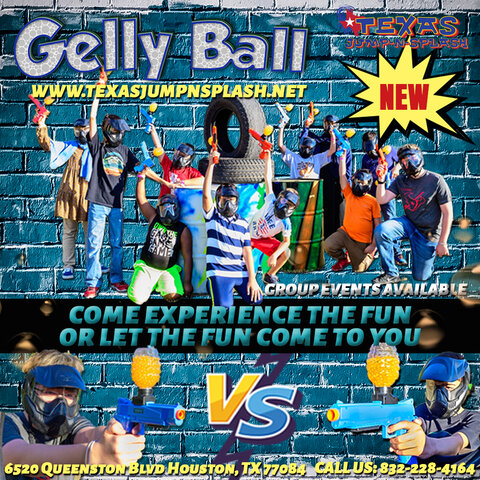 Texas Gellyball Fun
Setup Area: 100'Lx70'W or larger
Outlets: 1 Designated Circuit





$319.00

Please call to reserve this item.

CALL FOR MORE INFO ON RENTAL AVAILABILITY
WHAT IS GELLY BALL? Gellyball is a low impact "Paintball" like game. Gellyball is fun for children as young as 4 years old to adult. It's perfect for the whole family to have fun!! It is our lowest impact option and is perfect for the player that is not quite ready for the full impact or mess that comes along with traditional paintball. Gellyball "paintball" like fun but without the no mess!

Gellyball is fun for birthday parties, daycare field trips, youth events, family reunions and any event you can imagine. Gellyball fun events can be arranged at your location or at Texas Jump N Splash at 6520 Queenston Blvd. Houston, TX 77084.
Pricing:
$319.00
2-Hour Event
Each Hour Added on $150.00
Up to 12 Players ($19.99 for each additional player)
Safety Face Mask
Unlimited Ammo!Inflatable Bunkers (6-8 Space permitted)
Finally a solution for all ages; great for ages 4yrs. and up. Laser tag equipment is costly and complex. Paintball equipment is expensive and the games are messy. Gellyball is a perfect alternative.