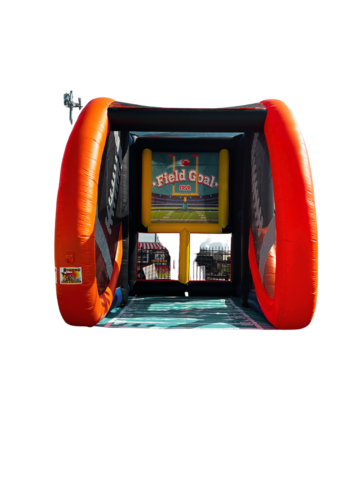 Field Goal Challenge
Actual Size: 22'LX16'WX18'H
Setup Area: 28'LX22'WX25'H
Outlets: 1 Designated Circuit




The Field Goal Challenge is a popular game or competition that involves attempting to kick a football through a set of goalposts from a distance. The objective of the game is to score as many points as possible by successfully kicking the ball through the goalposts.
The game can be played by individuals or teams, and there are different variations of the game with varying rules and distances. In the most common version of the game, the ball is placed on the ground at a certain distance from the goalposts, and the player or team attempts to kick the ball through the uprights.
Each successful kick is worth a certain number of points, with the value of the points increasing as the distance from the goalposts increases. For example, a kick from 20 yards away might be worth 1 point, while a kick from 50 yards away might be worth 3 points.The Field Goal Challenge can be played for fun or as part of a larger competition or event. It requires skill, accuracy, and focus, and is a great way to test and improve one's kicking abilities.
Features:
Safety Rules:
Adults should always be supervising the kids when they are in the inflatable.
Age limit is 3 and up.
No Flipping.
No jewelry or sharp objects.
Do Not operate any inflatable in 15mph winds or more.
Never play in an inflatable when it's raining.
Overnights: Overnight rentals are allowed as long as our equipment can be locked up when it is not being used.
Concrete: Cement set ups are allowed. We cannot set up on rocks or gravel or uneven cement.
Power: One (1) Blower (requires a separate outlet).
Texas Jump N Splash Delivery Areas:
Texas Jump N Splash delivers to the greater Houston, Katy, Cypress, Tomball, Fulshear, Richmond, Sugar Land area. We service other cities around Houston, please call 832-228-4164 to confirm.
We deliver to city/county parks and will provide necessary insurance documents for an extra fee.